November 2017
The Blue Earth County Historical Society began on November 7, 1901, to help prepare for the 1902 Semi-Centennial Celebration of Mankato (an event pictured above). Annually, we celebrate the milestone in our history with an Open House at the History Center. Join us November 3-4 for free admission to the History Center Museum, Gift Shop specials, door prizes and refreshments. 
As we celebrate 116 years of collecting, preserving and presenting the history of Blue Earth County, we invite you to take a look at all we have to offer. From exhibits and our quarterly Historian, to our physical locations and special activities, there is always history available. 
Scroll down for BECHS' exhibits, monthly programs and special activities.
LAST CHANCE!
Special Exhibit:
Celebrating Minnesota State, Mankato
150 Years: From Normal School to University
Open through November 25

at the History Center
Throughout 2017 and 2018, Minnesota State University, Mankato will be celebrating its 150th Anniversary and the Historical Society is excited to be a part of the celebration with our newest exhibit. This exhibit includes photographs and artifacts featuring different places on campus as well as fun facts and stories about the growth of the college and changes in student life. The exhibit is free and open to the public.
Art Exhibit:
Then and Now: Blue Earth County Through the Lens
by The Bend of the River Photo Club
Open through December 29, 2017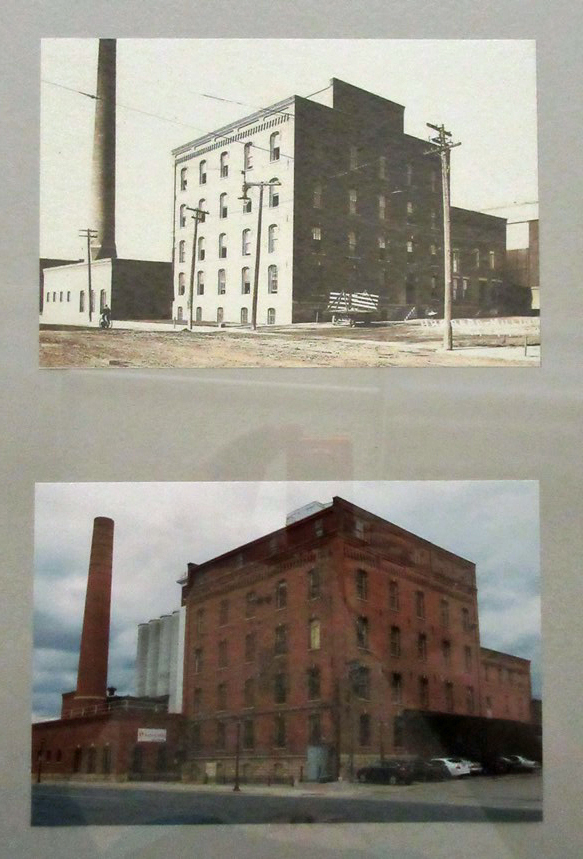 at the History Center
Then and Now is a collaborative project between The Bend of the River Photo Club and Blue Earth County Historical Society to document places in Blue Earth County through the camera lens.  For this project, Photo Club members chose a historic image from the extensive collection at the History Center.  They then re-photographed buildings and locations around Blue Earth County by standing where another photographer stood years ago. 
The Photo Club is documenting history today.  Years from now these photographs, printed and carefully stored at the Blue Earth County Historical Society, will be available for the next generation.  The Photo Club hopes viewers will enjoy their photographs as much as they enjoyed recreating the ones from the past.  Then and Now: Blue Earth County Through the Lens is on display at the History Center Art Gallery through December 29, 2017.
Free and open to the public.
Invest in the future of history! Your gift today will show the importance of history and bring it to life, creating a shared sense of place for residents and visitors of Blue Earth County.
See your impact on the faces of schoolchildren when they first visit the Hubbard House, the memory brought to mind with an old photograph, or the appreciation and understanding discovered through a program or in an exhibit. You make a difference! You are a History Hero!
There are 3 ways you can give financially to the Historical Society
Together we can save History!
New LED Lights at the History Center
The Blue Earth County Historical Society and the Summit Heritage Foundation are proud to announce the completion of a LED lighting project at the History Center.  In total, 42 florescent fixtures were replaced and 279 florescent fixtures were retrofitted with new LED bulbs. These new LED bulbs provide better lighting, are cost-effective and are better for the preservation of the objects housed and displayed at the History Center.  This project was made possible through grants from the Carl and Verna Schmidt Foundation and the Mapleton Chamber of Commerce, a rebate from Xcel Energy and supporters like YOU! We've shed a new light on history!
Upcoming Events
November 3-4

, 9 a.m. - 5 p.m., 

Anniversary Open House

, Saturday, November 4 activities include Kids stained glass workshop at 11 a.m. and Author talk and book signing with Kathleen Baxter at 1 p.m. History Center, Free. 

November 7, 10 a.m., Remember When Coffee Club - "Preparing for Winter." Remember When Coffee Club meets the first Tuesday at 10 a.m. An informal gathering to share memories on predetermined topics with fellow local history enthusiasts. History Center, Free. 
November 11, 10 a.m. to Noon, Young Historians - The Roaring 20s and the Depression Years. Young Historians is held on the second Saturday from 10 a.m. to Noon during the school year. Hands-on history workshops for school-age children. History Center, Free.
November 16, Noon to 1 p.m., History Bits & Bites - Norwegian American Women: Migration, Communities and Identities by Dr. Lori A. Lahlum. History Bit & Bites is on the third Thursday from Noon to 1 p.m. Hour-long presentations with different topics and presenters each month. History Center, $5/Adults, Free for BECHS Members. 
November 23-24, Blue Earth County History Center closed for Thanksgiving
November 25, 10 a.m. to 4 p.m., Shop Small Saturday. BECHS is a part of the City Center Partnership's Passport to Local Businesses. Join us for unique gifts, store specials and a stamp in your City Center Partnership Passport for a chance to win prizes throughout the City Center Partnership.
December 2, 3-7 p.m. and December 3, 1-4 p.m. Christmas at the Hubbard House: A Parlor Game History Mystery. Visit the Hubbard House for a traditional Victorian Christmas. Stick around to help the Hubbard family and servants solve a history mystery. Hubbard House, $8/Adults, $5/BECHS Members and Children 5-17.
Click here for our full events calendar. 
Volunteer Opportunity
Kiwanis Holiday Lights
Sunday, November 5, 1-4 p.m. 4-6 BECHS volunteers are needed at Sibley Park to help with lights set up for this annual community event. In past years, volunteers have helped with general light maintenance, strung lights on trees and installed decorations.
Sunday, November 26, 4:30-9 p.m. This is BECHS' night to help at the event. 8 volunteers are needed to handout programs to visitors, direct traffic, collect donations and more. Most volunteers are outside, but are given frequent breaks to warm-up throughout the night.
Email Museum@BlueEarthCountyHistory.com to sign up.
BECHS Seeks Board Games
BECHS is looking for classic board games to be on loan for Christmas at the Hubbard House, as well as a fancier chess set. The loan period would be from early November through January 2. If you have a game you would like to loan, please contact Shelley at 507-345-5566 or Archivist@BlueEarthCountyHistory.com.
Around the Social Sphere
In case you missed it on Facebook or Twitter, here are some of our more popular posts from October:
Fans really "liked" a list of popular resources in the Research & Genealogy Center!
We took a look back at the first courses offered at the Mankato Normal School. 
The Research & Genealogy Center helped solve a family debate - Who is this baby!
You do not need to have an account on Facebook or Twitter to read or view these posts.
Blue Earth County Historical Society Video
Have you seen our video? Take a look and see all of the things you - our members, donors, visitors, and supporters - make possible at the Historical Society.
Snippets of Blue Earth County History:
Steamboating on the Minnesota River
[Black Hawk Steamboat, 1852] 
"In 1852, three steamboats made seven trips to Mankato. The Tiger made three trips in April and May and the Black Hawk made three trips later in the season. The Jenny Lind made one trip. The three steamboats had a goodly number of passengers and a good load of freight each trip.
"The first boat to ascend the Minnesota River in 1853 was the Greek Slave, a sidewheeler. She arrived in Mankato on April 7th with 150 passengers and a large quantity of freight. In the spring of 1853 two events occurred which greatly stimulated traffic on the river. One was the establishment of two Sioux agencies on its headwater and the other was the location of Fort Ridgely in the same locality. On April 26th, the West Newton took on board two companies of U.S. Troops at Fort Snelling and conveyed them to the site of the new fort. The Tiger, Shenandoah and the Clarion, each with barges in tow, went up the Minnesota, loaded with the baggage of the soldiers and material supplies for the new fort and Indian agencies.  Continue Reading . . . 
This snippet is from The Heritage of Blue Earth County by Julie Schrader. To read the full article, please visit the Research Center.
History Center Hours:    
Tuesday-Friday: 9 a.m. to 5 p.m.   
Saturday: 10 a.m. to 4 p.m.  
Closed Sunday and Monday and major holidays
Hubbard House Hours November:
Closed for the Season.
Mark your calendars now for Christmas at the Hubbard House December 2 and 3.
Open for Guided tours December 9, 10, 16 and 17 from 1-4 p.m.
Opportunities: